Community Profile

Free Account
Created on 2009-10-20 03:04:16 (#452855), last updated 2010-02-21 (395 weeks ago)
0 comments received
38 Journal Entries, 1 Tag, 0 Memories, 0 Icons

About
| | |
| --- | --- |
| Name: | Castle Fandom Newsletter |
| Location: | United States of America |
| | |
| Membership: | Open |
| Posting Access: | Select Members |
| Community description: | Fandom Newsletter for the TV show Castle |

Mini Bio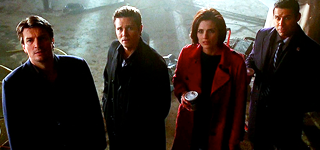 CASTLE WATCH


Welcome to

castle_watch, the weekly newsletter for the Castle fandom!



castle_watcher is the following journal. If there's a Castle community that is not currently followed, please email castlewatchmod @ gmail.com for it to be added.

Criteria:
1. Only posts related to Castle, the show, characters, and cast will be posted here.
2. Fiction must be rated to be listed and any rating with be accepted. Anything with an R, NC-17, M, FRAO, or FRM rating will have adult content.
3. Art that includes adult content must have a warning to be listed.
4. Fic and art with spoilers must be labeled as such.

About the labeling system:
Spoilers! - Includes known spoilers for upcoming episodes or that week's episode
Potential Spoilers! - Is a little more vague. If it's going up on Monday and includes references to the previous Monday's episode a post may get this. Is also used for video interviews that weren't watched before adding or long chat transcripts that weren't fully read through before adding - things were we're not certain that there are spoilers, but we're also not certain that there aren't.



castle_watch is mirrored on LiveJournal at

castle_watch
archive ; affiliates

AFFILIATES




castle100

castle_fic

castle_icontest

castle_vcontest

fillion_daily

firefly_signal

stanakaticfan

Connect
abc castle
,
alexis castle
,
castle
,
castle tv
,
challenges
,
fandom
,
fanfiction
,
graphics
,
javier esposito
,
jon huertas
,
kate beckett
,
kevin ryan
,
lanie parish
,
martha rodgers
,
molly quinn
,
nathan fillion
,
news
,
richard castle
,
rick castle
,
roy montgomery
,
ruben santiago-hudson
,
seamus dever
,
spoilers
,
stana katic
,
susan sullivan
,
tamala jones
Administrators

Members (10):

Subscribers (37):
ane
,
birggitt
,
bookchan
,
caffeinified
,
callmesandyk
,
castle_anon
,
castle_watcher
,
cedara
,
cerise
,
cherrylurker
,
curse_of_avalon
,
dejla
,
dragonsally
,
dreamingofthestars
,
erendis
,
grlnamedlucifer
,
hollymac_79
,
idiothole
,
janebot
,
jassanja
,
kaitlia777
,
lady_katana4544
,
lassarina
,
melroseee
,
metfanreads
,
moonprint
,
noveltea
,
pedestrian
,
smiley_b
,
solaciolum
,
tanja
,
temaris
,
thedivinegoat
,
tommygirl
,
viva
,
zeldaophelia
,
zinke

Linking
To link to this user, copy this code:
On Dreamwidth:
Elsewhere: